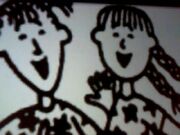 Daisy is the main character from the Jacqueline Wilson book Sleepovers.
Daisy Stack

Birth Name

Daisy Stack

Age

7 (8 at the end)

Friends

Emily, Amy, Bella

Parents

Jock (father) Angela (mother)

Siblings

Lily (older sister)

Books

Sleepovers
Personality
Edit
Daisy is a cute, sweet, loyal and naive little girl with a big imagination. She acts like a big sister to her big sister, Lily, who has special needs. Her four friends are from the Alphabet Club and are very nice to Daisy, except Chloe.
Daisy and her friends, Amy, Bella, Chloe and Emily are all in a club called the Alphabet Girls. The club was her idea. Daisy sometimes hates Lily, because she isn't like a real sister, and cries a lot. But despite that, Daisy loves her sister very much.
Appearance
Edit
Daisy has long brown hair in plaits, and has brown eyes.
Ad blocker interference detected!
Wikia is a free-to-use site that makes money from advertising. We have a modified experience for viewers using ad blockers

Wikia is not accessible if you've made further modifications. Remove the custom ad blocker rule(s) and the page will load as expected.