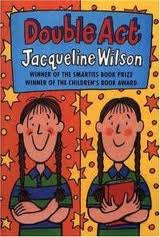 Garnet is Ruby's twin sister. She doesn't want to act, unlike her bossy twin sister Ruby.
Garnet Barker

Birth Name

Garnet Barker

Age

11 (double act) Around 30 (The Butterfly Club)

Parents

Richard (father), Opal (mother, deceased) Rose (step-mother)

Siblings

Ruby Barker (twin sister)

Friends

Judy (friend from Primary school), Jamilla ("sheepdog" at boarding school), Lucy (friend at boarding school)

Occupation

Student (Double Act), Executive producer (The Butterfly Club)

Books

Double Act

Personality

Shy, sisterly, sensitive, mischievous, funny, warm, caring, affectionate, protective, peaceful, kind, loving, beautiful
All About Garnet
Edit
Garnet is the identical twin of Ruby, and is often bossed around by her. She and Ruby do everything together. She prefers reading to acting, and is quiet rather than noisy like Ruby.  She is also neater and more smart than Ruby. She also appears in The Butterfly Club (2015) as a grown-up. She is now the executive producer of Ruby Red, her twin sister Ruby's television show.
Appearance
Edit
Garnet has long, dark-brown hair tied in plaits. She usually wears a green and blue striped t-shirt and black leggings.