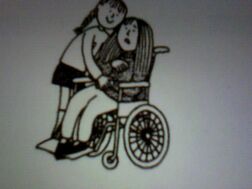 Lily is Daisy's brain-damaged sister from the Jacqueline Wilson book Sleepovers. Lily has special needs, which is why she sits in a wheelchair and makes noises such as "Ur, ur, ur, ur, ur." She loves her sister, Daisy, who attempts to make her friends see her.
Personality
Edit
Lily is always there for Daisy, even when they cuddle up together in bed. When Daisy worries about something, she tells Lily about it. But when she gets overexcited at something, Lily often gets sick or upset. She is also afraid of bears. Lily seems to care for Daisy very much.
Appearance
Edit
Lily mostly wears big towelling tops because she dribbles and spills so much, and loose jogging trousers because they are easy to whip on and off when she needs changing. Lily has long hair though, which Daisy's friend Emily likes.
Daisy - Lily's caring younger sister. When something worries her, Lily reassures her with an "Ur, ur, ur, ur." Daisy sometimes isn't very nice to Lily because she doesn't think she is like a real sister, but she still loves her very much.
Mum - Daisy and Lily's mother. She feeds Lily and helps her change.
Dad - Daisy and Lily's father. He jokes with Daisy.
Ad blocker interference detected!
Wikia is a free-to-use site that makes money from advertising. We have a modified experience for viewers using ad blockers

Wikia is not accessible if you've made further modifications. Remove the custom ad blocker rule(s) and the page will load as expected.