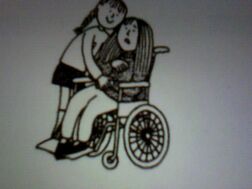 Lily is Daisy's brain-damaged sister from the Jacqueline Wilson book Sleepovers. Lily has special needs, which is why she sits in a wheelchair and makes noises such as "Ur, ur, ur, ur, ur." She loves her sister, Daisy, who attempts to make her friends see her. Because of her is why they moved, to be nearer a special needs school for Lily to attend.
Personality
Edit
Lily is always there for Daisy, even when they cuddle up together in bed. When Daisy worries about something, she tells Lily about it. But when she gets overexcited or scared at something, Lily often gets sick or upset. She is also afraid of bears, even Daisy's toy teddy bear, Midnight. Being her older sister, Lily seems to care for Daisy very much.
Appearance
Edit
Lily mostly wears big towelling tops because she dribbles and spills so much, and loose jogging trousers because they are easy to whip on and off when she needs changing. She is described as not being very pretty by Daisy; her mum keeps her clean but her face goes funny and she can't sit up straight. Lily has long hair though, which Daisy and Emily like.
Daisy - Lily's caring younger sister. When something worries her, Lily reassures her with an "Ur, ur, ur, ur." Daisy sometimes isn't very nice to Lily because she doesn't think she is like a real sister, but she still loves her very much.
Mum - Daisy and Lily's mother. She cares for Lily, feeding her and changing her.
Dad - Daisy and Lily's father. He jokes with Daisy.