Lola Rose Luck is the main character in Lola Rose. She is running away from an abusive father along with her mother Victoria Luck and brother Kendall Luck. Edit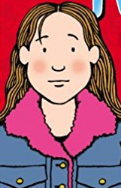 At aged 10, Jayni is forced to flee from her abusive father (Jay), along with her mother (Nikki) and younger brother (Kenny). After successfully escaping their wicked dad, the family change their names. Packed full of money, the new and exclusive Lola Rose Luck is proud of her brand new lifestyle, but little does she know, her life will take to the wrong turn, and learn that money can't buy happiness.
Ad blocker interference detected!
Wikia is a free-to-use site that makes money from advertising. We have a modified experience for viewers using ad blockers

Wikia is not accessible if you've made further modifications. Remove the custom ad blocker rule(s) and the page will load as expected.