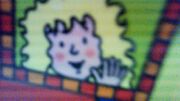 Maudie Hartlepool is a cute 3-year-old girl from the Jacqueline Wilson book
Maudie Hartlepool

Birth Name

Maudie Hartlepool

Age

3

Birthday

May 15

Parents

Smash (older step-sister) Rosalind (older step-sister) Robbie (older step-brother)

Books

Four Children and it
Four Children and It. Maudie is the adorable half-sister of Rosalind, Smash and Robbie, and the daughter of Alice and David. In one of the children's wishes Maudie disappears but the wish was just before sunset so she came back quickly. Maudie's wish was that all her nursery rhyme people came to life. When Smash wishes for the siblings to be rich and famous Maudie is on a TV show called: the Doodle Family Show. Maudie's mothe, Alice, is seen babying Maudie and loving her more than Smash. Rosalind and Smash are seen fighting over Maudie about who gets to look after her.
Personality
Edit
Maudie is happy, cute and playful.
Appearance
Edit
Maudie is small for her age, she has shoulder-length fluffy blonde curls and blue eyes.
Likes and Dislikes
Edit
Maudie likes: The Psammead (which she calls "Monkey"), Swimming, Nursery Rhymes, and ice cream. Maudie Dislikes: Being woken up, her sibling's arguments, when Smash gets wild/angry
Ad blocker interference detected!
Wikia is a free-to-use site that makes money from advertising. We have a modified experience for viewers using ad blockers

Wikia is not accessible if you've made further modifications. Remove the custom ad blocker rule(s) and the page will load as expected.