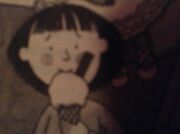 Maxie

Birth Name

Maxwell (surname is not mentioned)

Age

4

Parents

Julie (mother) Frankie (father)

Other relatives

Ellen (grandmother)

Siblings

Em, Vita (older sisters)

Personality

Timid, kind, demanding, funny, cheeky

Books

Clean Break
Maxie Hutchinson is Em's wimpy half-brother from the Jacqueline Wilson book Clean Break. He was given a set of expensive felt tip pens for Christmas. He does not want to sleep in a proper bed and he hates pyjamas.
Appearance
Edit
Maxie has short (quite long for a boy's ) hair, which is described as coal-black.
Ad blocker interference detected!
Wikia is a free-to-use site that makes money from advertising. We have a modified experience for viewers using ad blockers

Wikia is not accessible if you've made further modifications. Remove the custom ad blocker rule(s) and the page will load as expected.